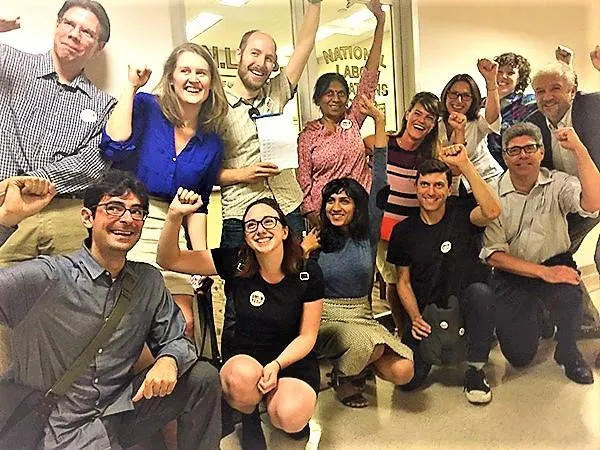 Working people organize unions because they want to improve their workplaces and their communities, building a better life for themselves and their families. An organizing campaign is how people come together to take the practical steps to organize their union.
THE #1 ORGANIZING TOOL 
Our best tool is still a face-to-face conversation between two people about what we value, what's getting in the way and how we can work together to make a change. Doing this in a way that builds relationships and trust among people is the key to successful one-on-one conversations.
LEADERSHIP MATTERS
If you are organizing a union, you must build and develop an organizing committee. The people on the organizing committee will be critical to winning the campaign and building a strong local union. So, finding the right people, getting them working together, and offering training and mentorship are the keys to winning the organizing campaign and building power.
GET A PLAN
What we're doing is critically important with real consequences for people and our communities. A campaign plan should show careful thought about what it's going to take to win and the best way to proceed. Research, a road map, a calendar, outreach and communications are all part of the plan to win.  
BE PREPARED FOR OPPOSITION

Many employers oppose unions because they don't want to share decision-making power or don't want to invest more money in the people who work there. Some politicians who support keeping power in the hands of the few oppose unions because it shifts the balance of power and distribution of wealth in our communities and our country. When you organize a union, be prepared to face opposition from those who would like to see you fail and understand what some people are willing to do to stop a union organizing campaign. 
ACTIONS SPEAK LOUDER THAN WORDS
People don't need promises about how things will be different with a union. Come together now and show that power in numbers still works. Issue campaigns help solve problems and show that participation and opinions matter. Get as many people involved in actions, surveys, decision making and meetings to build a strong local union!    
GET THE WORD OUT 
Figure out what you want to say and who's going to say it. One-on-one conversations are the centerpiece to communications because it's a two-way street. If you have to put it on paper, send an email or post to Facebook—pick a communications strategy that fits your objectives.
STAY ORGANIZED, LEARN AND THINK STRATEGICALLY
The bigger the campaign, the more tools you may need to organize schedules and contact information of all the people involved. No matter what the size, there will be a team of people who are organizing the union. A plan, regular debriefs, lists and charts, and assessment tools are essential to staying organized, learning, thinking strategically and winning.
TEACH OTHERS

When you learn something new that makes a difference, don't keep it to yourself. Teach others how to organize a union by one-on-one mentoring, coaching, role modeling or leading a training. Great organizers are the best resource for other organizers.
LEGAL STUFF
Working people have to jump through a lot of hoops to form a union, and there are lots of sections and sub-sections about who can form a union, what's considered fair play and what paperwork to file to get a union election.