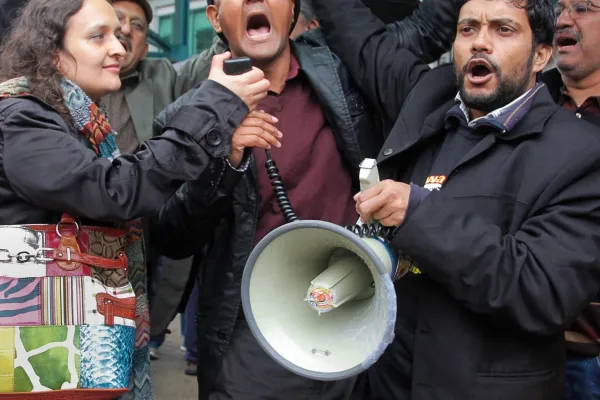 If you know it, teach others
Whether it's role play, a group exercise or one on one, training is an important tool to help the whole team succeed. Don't assume another person feels comfortable with a task just because it seems simple to you, whether it's a phone call, a one-on-one meeting or writing a petition. 
One-on-one relationships
One-on-one relationships are the key to organizing our union. It's also the way to support leaders, staff and union members through one-on-one coaching and mentorship.
Working with New Organizers on Home Visits

 Do's and Don'ts for Giving Feedback
challenge and support the team
It takes teamwork to organize the union. Whether you're building a leadership committee or a campaign team, the values around respect, trust and accountability help teams succeed.  
 Habits and Practices of Effective Teams

Lessons Learned From Team Leads
get organized
To help the team, you need to have your own act together! Planning, charts, lists, daily debriefs are some of the tools the best organizers use to keep themselves, the campaign and the teams on track. 
Internal Organizing Campaign
experience is a great teacher
Giving it a try and sharing feedback to learn from successes and failures is a critical component of building strong leadership and experience.
Delegate to Help People Learn and Grow

Debrief Home Visits: Some Good Questions to Ask
Set people up for success
Role-plays are a great tool to practice what to say or how to respond to a new situation, and to break the ice and get comfortable with an unfamiliar task.
Tips for Using Role Plays

 Do's and Don'ts for Giving Feedback
set aside time for Training
Training works best when it is anchored in campaign work and building on the relationships and collective knowledge of the team.
How to Design a Workshop

Icebreaker Ideas
make debriefs a learning experience
Learn from debriefing the work as often as possible. Don't avoid the hard questions and do walk away with a plan!
The Five Whys: A Critical Thinking Tool

How to Run Great Debriefs